Upholstery Cleaning in Centreville, VA
Do you need an upholstery cleaning service for your furniture cleaning in Centreville, VA? Searching "upholstery cleaning near me" on Google would give a lot of results, leaving you confused as to which to choose.
UCM Carpet Cleaning Centreville is the professional business you need for upholstery cleaning. Our services include upholstery cleaning, air duct cleaning, carpet cleaning service, mattress cleaning and much more. We provide residential and commercial cleaning services in Centreville, VA.
If you want an efficient, environment friendly, and affordable service, you should give us a call today. Our honest free estimate lets you decide if our services are right for you. Get in touch with us today!
If you are still debating whether you need our service to clean your office chair or your velvet sofa bed, here are some of the reasons you should use our service.
How to Clean Upholstery
Most upholstery needs professional cleaning every six months or yearly at the bare minimum. This is even if you also vacuum once a week, and is especially important if you have pets, small children, or entertain often.
Almost all types of upholstery can be cleaned, but the care procedure depends on the fabric or leather. Remove dust, hair, & dead skin cells with a vacuum cleaner with an attachment for upholstery. You can also use a little water on most (not all) fabrics. You shouldn't clean leather upholstery with water. It requires a good cleaning with products designed to protect the leather and keep it moisturized. There are removable covers and fabrics that you can wash with a machine.
Cleaning your upholstery is not such a hard task. The problem is that without experience, you won't know the right products and methods to use for the different fabrics. It is for this reason that you should contact UCM Carpet Cleaning Centreville.
UCM Carpet Cleaning Centreville will give you the best value for your dollar when it comes to upholstery cleaning. Our cleaning technicians are experienced and courteous. Our services are Eco-friendly and affordable, saving you money. We also give you a free estimate, so you know how competitive our prices are. We guarantee the quality of our services.
What are you waiting for? Let us make your upholstery look good and smell fresh again. You won't regret it. Call us today for a free estimate!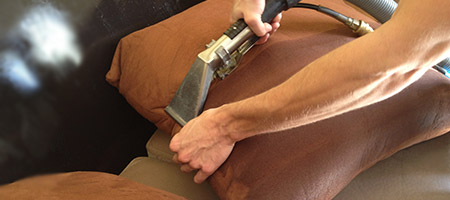 The Advantages of Using a Professional Cleaning Service
You chose that real suede chair or ottoman at the store because you love it. However, you must choose the best care for it when it's time for sofa cleaning.
You might think the occasional brushing and dusting is enough for your upholstery. This is not the case. Dirt is abrasive, and cleaning provided by professionals is the best way to clean your upholstery deeply. Here's why professional cleaners are better for your furniture cleaning needs than DIY.
The use of professional equipment and tools ensures your furniture looks and smells better after the cleaning.
The thorough cleaning helps remove all allergens in your house for better air.
Our rich experience with cleaning different types of upholstery means we know how to clean your?mattress just as well as we know how to clean your?chaise lounge.
Professional cleaning helps prevent the formation of stains in the fabric of your upholstery, maintaining its beauty.
Our safer cleaning practices ensure your furniture lasts longer.
We use quality products for cleaning.
You can expect great cleaning results.
In contrast, when you clean your 3-seater or sectional 4-5-seater yourself, you risk causing damage to the fabric if it is not treated correctly, or even ruining your sectional seater without benefit of the right experience or equipment.
You might be wondering why you need to pay the extra cost for professional technicians to clean your upholstered furniture instead of only your carpets. You should know that your love seat and other furniture can store up dust mites, mold, pollen, and bacteria. These elements can cause health problems. The inadequate cleaning of food spills and body odor can also lead to unpleasant, unwelcome smells. Keep in mind that stains get more challenging to clean the longer they set in.
If you need to get that dining room chair or recliner clean, you must get professionals to do the job as soon as possible.